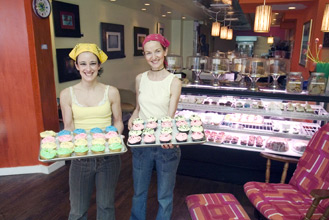 Peggy & Debbie met back in 19xx performing in "The Music Man" in Brooklyn Heights. They both led the gypsy lifestyle…audition to audition and corporate survival jobs…you know the deal.
As friends, they always felt that they would collaborate on a theatrical production. In between shows, they worked together at Magnolia Bakery having fun, eating cupcakes and waiting on people. Some of their craziest ideas grew out of that experience…as well as some very fond memories.
In the spring of 2002, each of them reached respective crossroads in their careers. Deb had been doing the corporate circuit and Peg was doing the bakery thing full-time between auditions. It was time for each of them to take a huge leap of faith. Peg had the initial impulse to open a bakery. It was solidified after a phone call to Deb. The idea was born. Now, all they had to do was learn how to bake.
Debbie had a dusty old Betty Crocker cookbook that her parents had given her and decided it was a good a place to start. So, every Sunday for the next 1-1/2 years in Deb's kitchen the two experimented. Some of the things they baked were great triumphs and others…well, it was back to the baking board. They had many willing guinea pigs, some of whom were extremely brave…they owe a lot of thanks to many of a certain coffee shop's former employees for their willing participation in the great taste-offs of sugar Sweet sunshine.
In between baking, working survival gigs and picking up wholesale clients, Deb & Peg were writing a business plan, looking at potential locations and trying to make enough money to make sugar Sweet sunshine happen.
There are so many people that were met along the way who were so instrumental to the journey and quite patient with their inexperience in opening a business. To say "Thank You" isn't enough, so they got lots of baked goods.
sugar Sweet sunshine was unofficially open Thanksgiving 2003. For 48 hrs. Deb & Peg baked in their brand new kitchen with their brand new oven for the first time. The doors were open for those who wanted to take a peek in and see what was going on. The window was decorated with pictures of the two baking in Deb's kitchen and their early baking creations. Deb & Peg always had the open door policy and it still applies today-you can see right into the kitchen.
December 22, 2003 marks the day the "Open" sign went up on the door of sugar Sweet sunshine.
Peg & Deb don't claim to be pastry chefs-just two girls who set out to do their own thing. They wanted to create an atmosphere that's warm, inviting, fun and remains carefree enough to believe in the "Why Not?"